1 cup chickpeas (rinse and drain well)
+ 1/3 cup Tahini
+ 2 tablespoons olive oil
+ 2 tablespoons lemon juice
+ 1 clove garlic
+salt to tastePlace all ingredients in a food processor or blender and mix until smooth.
I've found to get the best consistency that you need to add more liquid – you can either add a tablespoon of water at a time, I prefer to add more olive oil.
Be sure to make your Hummus with good quality extra virgin olive oil.
The great thing about hummus is that you can make a number of different varieties depending on what you like – add roasted red pepper
or cooked beetroot, pesto, avocado or cooked zucchini.
It can then be used in sandwiches, smoothing over chicken or fish, and even baked potatoes but I think its best for eating raw vegetables like carrot, cucumber or celery.
To find out all the health benefits of hummus read here
If you don't want to miss any future newsletters or blogs please sign up here and you'll also get a free guide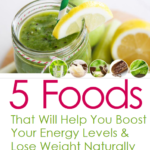 5 Foods that will boost Your Energy Levels and Help You Lose Weight Naturally.