Broccoli Soup
1 tablespoon of olive oil
1 onion, finely chopped
2 garlic cloves, crushed
4 cups salt-reduced vegetable stock
400g/14oz potatoes, peeled, coarsely chopped
450g/1lb broccoli, cut into florets
2-3 handfuls of baby spinach leaves
1/2 cup fresh basil leaves
1/3 cup light sour cream (optional)
1 tablespoon store bought basil pesto / homemade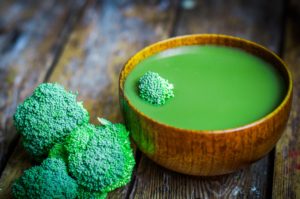 METHOD
Heat a large saucepan over medium heat with the olive oil.
Add the onion and cook for 5 minutes until soft. Add the garlic and cook until lightly browned.
Add stock and potato to the saucepan. Bring to boil. Cover. Reduce heat to low. Simmer for 15 minutes. Add broccoli and simmer for 6-7 minutes or until all vegetables are tender.
Remove from heat, add spinach and stir until wilted. Leave to cool slightly so you can blend. This might take up to 15 minutes.
In a blender add basil leaves and half of the soup mixture and blend until smooth. Pour into a clean saucepan and repeat until all the soup mixture has been blended into a smooth consistency.
Heat soup over medium heat for 2 minutes or until just before boiling point.
Combine sour cream and pesto in a bowl. Divide soup among bowls. Top with pesto cream and serve.  For vegan option, simply top with a half teaspoon of the basil pesto and omit the sour cream.