Do You Need To Flip Off The Cortisol – Stress Switch?
Over the last 40 years rates of depression, anxiety, stress and insomnia have soared and the World Health Organisation is saying that these problems are the biggest threat to our health.
Stress releases cortisol in your body, and of course cortisol has both a positive and negative effect on your body.  We wouldn't survive if it wasn't for the positive effect of cortisol.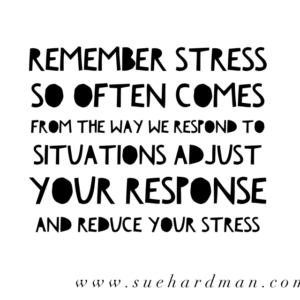 Cortisol is the main stress hormone that is made in your adrenal glands and it's designed to get you out of danger, you feel the positive vibe of cortisol and adrenalin– releasing extra energy, getting you focused, it raises blood sugar (to feed muscles fight or flight), raises blood pressure, and modulates your immune function.
Unfortunately many of us live with chronic daily stresses and so live with constantly high cortisol levels and your body ceases to experience the positive aspects of cortisol and if these high levels are sustained this is when the problems start occurring.
Stress is triggered by a huge range of psychological factors and external events. We can become stressed by relationships, by work, by finances, and by our thoughts of what we think may or may not have happened.
Daily stress of any sort sends your bodies into the "fight or flight" mode, releasing adrenaline and cortisol.
Cortisol releases extra energy for us to deal efficiently with the physical effort involved in fighting or fleeing, but when that effort doesn't come, the extra energy (in the form of glucose and fat) just gets re-deposited as fat – around the middle.
Why there?  It's close to the liver where it can quickly be converted back into energy when needed.
A lean man or woman of normal weight can even have to much fat around the centre of their bodies as a result of the stress hormone – cortisol.
Fat cells in the belly have four times more cortisol receptors compared to fat cells elsewhere.
A study done by Nuffield Health found that women with thicker waists are at higher risk of various cancers as well as heart disease and type 2 diabetes.
If you have a high level of stress then you will be particularly at risk of the dreaded muffin top and stress keeps feeding the muffin top as your cortisol stays high.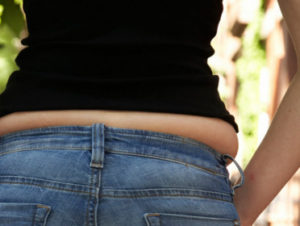 Increased abdominal fat, is associated with more health problems than fat deposited in other areas of the body.
There's another hormone that is released due to stress. High levels of blood sugar released by cortisol, trigger the pancreas to release the hormone insulin.
This tells your body to store fat and triggers a craving for something sweet and fatty like chocolate.  So rest assured that it is
not just weakness that draws you towards the fridge – it's physical urge.
Abdominal fat cells have many receptors for cortisol, if you're very stressed and have high levels of cortisol, your abdominal fat cells will be calling out for it, encouraging your body to store more fat there, which explains why fat accumulates so readily in that part of the body.
For a start you can control your blood sugar roller coaster and this will help reduce the amount of stress hormones that are being released and helping you feel calmer in yourself.
High or Excessive cortisol levels can create a broad range of undesirable side effects:
Physical Signs

Emotional 
Signs

Additional

Signs

-Muscle weakness

-Chronic fatigue

-Obesity

-Excess belly fat

– Nervousness
– Anxiety
– Depression
– Irritability
– Craving carbs
– Insomnia
– Difficulty falling asleep

= Emotional over-eaters

– Illness after completing a project
– Sick on vacation
– Mental preoccupation with a  stressful event
6 things you can do straight away to support yourself and balance your cortisol levels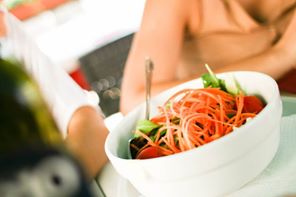 1) Eat fresh, healthy food as close as possible to the original source. Loads of veggies. Avoid refined carbs and sugar.
2) Find out which supplements can support you –
Certain nutrients such as the B vitamins, vitamin C, magnesium and essential fatty acids can be extremely helpful if stress is a problem as they will help boost the functioning of your adrenal glands.
You should be getting these nutrients from your healthy diet but if you are under stress you might want to add in more B vitamins, found in nuts and whole grains, essential fats found in oily fish, nuts and seeds, and plenty of vitamin C found in v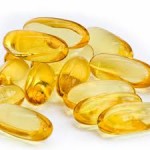 eggies & fruit.
When you're stressed you use more vitamin C and magnesium than at any other time, and it is vital for keeping your immune system strong.  Women who are deficient in the antioxidant mineral selenium, also experience feelings of depression and anxiety.  Selenium if found in fish and shellfish, whole grains, avocados.
3) Use natures' own plant medicine –  nervine and adaptogen herbs like Scuttelaria, Passiflora, Ginseng or Rhodiola.
4) Get your cortisol levels tested. Know your levels and measure – where are they to high or to low? These can easily be addressed with the proper support.
5) Exercise –  is good and changes the levels of hormones in the blood and it can elevate the mood, affecting brain chemicals. Find time to do simple exercise daily.
6) Deep, long  and restful sleep is essential for recharging your energy levels. A proper sleep relaxes both your body and the mind. It will improve your mood and give you the ability to deal with daily stress.
7) Spending time in
fun, positive environments
to boost your
'feel good'
hormones – with your family and friends, spend some time close to nature.
8) You need to get out of the sympathetic mode (fight or flight and stress) and as often as you can into the parasympathetic mode (rest and digest i.e. calm, relaxed). Try breathing exercises, meditation, pilates, walking in nature, yoga and prayer. There are several scientific studies that provide solid information about the physical and psychological health benefits of meditation and prayer.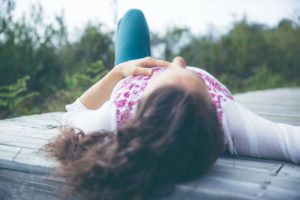 Dr. Herbert Benson, a cardiovascular specialist at Harvard Medical School and a pioneer in the field of mind/ body medicine discovered what he calls "the relaxation response," which occurs during periods of prayer and meditation. At such times, the body's metabolism decreases, the heart rate slows, blood pressure goes down, and our breath becomes calmer and more regular.
The body responds with slower brain waves, and feelings of control, tranquil alertness and peace of mind. This is significant because Benson estimates that over half of all doctor visits in the U.S. are prompted by illnesses, like depression, high blood pressure, ulcers and migraine headaches, that are caused at least in part by elevated levels of stress and anxiety.
If you are still scratching your head, don't let it discourage you!!! It can take time to learn and get in the swing of things.
---
If you're struggling with any kind of hormone imbalance, tiredness, 
low energy or wanting to lose your excess weight. 

I've  put together a FREE guide for

 you, so you can start to learn 

how

 and 

why

 specific foods, and drinks, can help you have more energy and lose weight naturally. 

You'll find it is easy to add these ingredients into your diet on a daily basis – get your downloadable guide here

In fact, at the end, I'm going to share one simple recipe you can make in under five minutes that incorporates all of these foods.

Get your copy of the FREE guide:
5 Foods that will help boost Your Energy Levels and Lose Weight Naturally.