The natural way to better sleep
Sue Hardman is a Putney-based Naturopath and Herbalist who works regularly with busy, stressed and sleep deprived clients. She looks at addressing the cause, as well as the symptoms when it comes to managing sleep issues by using nutrition, lifestyle or natural medicines.
'Create a night-time routine with a few rituals to help your body, mind and nervous system relax. Start with a relaxing Epsom salt bath with a few drops of real-lavender essential oil and spray your pillow with the lavender oil.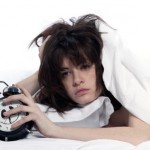 When you get into bed, try a few drops of Bach Rescue Remedy and take a good magnesium/calcium supplement combination. When you lie down and close your eyes have a calming place you take yourself to – visualise this and relax into this setting.
There are also a number of herbs – Hops, Valerian, Passiflora, Verbena and Wild Lettuce – that have been used very successfully for sleep disorders and to help improve your quality of sleep. Try them individually first and then perhaps in combinations; they're available in most supermarkets or pharmacies.
Alternatively see a qualified Herbalist who will help you address any underlying issues that could be causing your lack of sleep, as they will be able to use a much wider spectrum of supplements and herbs (not available over-the-counter) to help you get that very essential sleep you are missing.
While breaking bad habits are difficult, making lifestyle changes such as not having any caffeine after 1pm and avoiding back-lit technology (ipad,iphone, PC) after 8pm can have long term benefits for your health and your sleep.'  Sue said.
If you don't want to miss any future newsletters or blogs please sign up here  in the sign-up box.