Is the Gluten Free Diet Just a Fad?
What is Gluten?
It's a sticky protein found in rye, barley, and wheat kernels. Gluten (from Latin, "glue") is a protein and it gives bread its airy and fluffy texture and dough its sticky texture. It's used as a stabilising agent in many processed foods, such as salad dressings, soy sauce and mayonnaise. It's in almost everything from beauty products to packaged foods to medications and supplements.
The prevalence of wheat products, especially processed and refined varieties, have led to a greater percentage of the population developing an intolerance or an allergy to gluten.
We're no longer eating the wheat that our parents ate. In order to have hardier wheat that can survive drought, insects and grow faster, the wheat has been hybridised.
It's estimated that 5 percent of the proteins found in hybridised wheat are new proteins that were not found in the original wheat plants. These "new proteins" are part of the problem that has lead to increased systemic inflammation, widespread gluten intolerance and higher rates of celiac.
In our modern world with the convenience of bread and fast food, we're eating much more wheat than our ancestors ever did.
Why Would You Avoid It?
There are many reasons, for those with celiac disease, an autoimmune disorder it affects the small intestine lining and can lead to severe malnutrition and digestive problems, consuming too much gluten can damage or irritate their bowels. People diagnosed with celiac disease must be very careful to limit or completely remove gluten from their diets.
Gluten intolerance is now 30 times more prevalent than celiac disease and affects 1 in 7 people, who tested negative for celiac disease.
People of European are more likely to have gluten intolerance or celiac disease in their families.
How does gluten affect your gut and cause intestinal permeability or leaky gut?
Regulating your intestinal permeability is one of the basic functions of the cells that line your intestinal wall. In people sensitive to gluten it can cause the gut cells to release zonulin, a protein that can break apart the tight junctions holding your intestines together.
When your meal reaches your gut, an enzyme (tTG) is produced in your intestinal wall that breaks down the gluten into its protein building blocks, gliadin and glutenin.
As these proteins make their way through your gut, the immune system in your gut, reviews them for potentially harmful substances. In people who have no issues with gluten, the proteins are absorbed.
In those with gluten sensitivity, the gut identifies gliadin as a dangerous substance and produces antibodies to attack it. In celiacs, these antibodies don't just attack the gliadin, they attack the enzyme (tTG)  as well, which is what originally broke down the gluten into its two parts.
Once these tight junctions in the digestive system get broken apart, it becomes a leaky gut. This then allows toxins, microbes, undigested food particles and antibodies to escape from your intestines and travel throughout your body via your bloodstream. The antibodies that escape are the ones that your body produced to attack the gliadin in the first place.
It's these antibodies that can end up attacking other organs and systems, from the skin to the thyroid to the brain. This is why gluten intolerance is now being linked to autoimmune conditions and why those with celiac disease are at risk of developing a second autoimmune disease.
Symptoms of gluten intolerance include:-
Low immunity – Consistently runny nose and sneezing
Skin – eczema, acne, psoriasis, hives
Digestive disorders – IBS symptoms diarrhoea, abdominal bloating, sluggish bowel movements
Headaches
Difficulty losing weight or unexplained weightloss
Joint pain
Extreme fatigue
Hormonal imbalance – irregular menstrual cycles, weight gain or loss, hot flashes, low energy levels, erratic sleep
Anxiety, low mood and depression
ADHD
Brain fog
Autoimmune disease – Rheumatoid Arthritis, Vitiligo, Type 1 diabetes, Crohn's dx, Multiple Sclerosis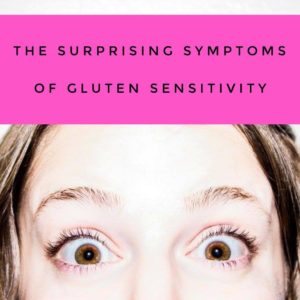 If you're already experiencing these types of symptoms, first consult a health professional rather than diagnosing yourself.
The bottom line is that gluten sensitivity can affect processes in the body beyond the digestive tract, wrecking havoc on your skin (our largest organ!), joints, bones, mouth, endocrine system and more.
Your myriad of symptoms that don't make sense to the doctor may mean that they've no clue that you're reporting back to them the signs of gluten sensitivity.
There are long standing beliefs that consuming gluten can also aggravate some existing autoimmune system diseases that you may already be experiencing. This includes multiple sclerosis, eczema, Crohn's disease, and a lot more.
It doesn't necessarily mean that consuming gluten is the root cause of the disease: rather, it exacerbates these existing conditions, contributing to flare-ups.
There is also evidence that consuming gluten can add to overall body inflammation that leads to other side effects, such as joint pain, depression, and fatigue.
Thyroid – Hashimoto's & Graves Disease
There's just no question that many people that have Hashimoto's and hypothyroidism have gluten sensitivity. For some patients, it's life-changing when they go gluten-free."  Dr. Datis Kharraziac.
The health of someone with non-celiac gluten sensitivity can improve significantly when it is eliminated; for example a woman who struggled in vain for nearly a decade to lose weight, lost 40 pounds easily when she cut gluten from her diet. This of course does not mean that if you give up gluten you'll automatically lose weight.
So, What Does it Really Mean to be Gluten Free?
Being gluten free means eliminating gluten foods or products from your diet. Following any type of diet is challenging but adhering to this diet can be even more difficult. But with patience, time, and some creativity, you can find ways to effectively substitute gluten free products and still enjoy the taste of your food.
Being Gluten Free Is Not Just About Giving Up Pasta and Bread
Experts also recommend paying close attention to your fiber intake; a diet loaded with vegetables, fruits, quinoa, and many other non-gluten grains should do the trick. Individuals are also advised to take multivitamins to ensure that they are getting sufficient vitamin D.
These days, more and more food manufacturers are providing gluten-free alternatives of their products, from bagels up to pasta. However, the prevalence has led to a lot of misconceptions. The term "gluten free" is widely linked with being healthy, but often in the sense of a dieting fad. Not everyone stops to think about what gluten free really means and why individuals should or should not eat certain foods.
Many foods are naturally gluten-free, such as nuts, vegetables, fruits, fresh meats, and some dairy products. To be gluten free means avoiding bread, desserts, pasta, cereal, beer, and many other foods on an extensive list.
Can Anyone Really Go Gluten-Free? 
There is really no serious danger in eliminating gluten. However, if you are eliminating a particular ingredient, take some precaution and be careful in replacing this ingredient. Experts recommend sticking to foods that are naturally gluten-free like vegetables, fruits, lean proteins, and dairy. However, double check labels for sugar and sodium content.
Do You Need to Give Up Eating Cereal, Bread, and Pasta?
Definitely not! Fortunately, there is a wide range of products available these days that are good and delicious substitutes for gluten-based products. Although these products were once only found in specialty health food stores, most of these products have now gone mainstreams and can be found in most grocery stores. Although these products may differ in texture, taste, and consistency, you will no doubt be able to find some that suit your taste buds.
Gluten shows up in unexpected places, like in foods containing soy sauce, which often contains hidden traces of wheat. Gluten is also found in potato chips, hot dogs, candy bars, lunch meats, prepared eggs, and salad dressings. Since the lists of ingredients do not usually include the term "gluten," it can be tricky to spot unless package specifically indicates that it is gluten free.
You want to avoid things that say, "malt flavor" or "malt extract." Experts have also found gluten in rye, barley, wheat, and brewer's yeast. Even if these foods are labeled with "gluten free," they might contain gluten due to cross contamination.
Avoid self-diagnosis; if you believe that gluten is the cause of your health issues. If you're following the advice of a doctor for any type of gluten-sensitive disorder, then you should also consult a health care practitioner to help you plan your meals.
 The Challenge
Eating out is very tricky because you generally don't have any idea about the ingredients of your dish. But, it is easy—and becoming more common—to ask your server to find out if any barley, wheat, or rye has been used in your requested dish. Another challenge is learning more about food additives that contain gluten or wheat such as couscous, food starch, brewer's yeast, and spelt bran.
The good news is, many of today's eating establishments and food stores provided excellent offerings and food labels in response to the growing number of people who have decided to go wheat-free or gluten-free for a happier, healthier lifestyle.
Testing for Gluten Intolerance
The of the best way to determine your sensitivity to gluten, is to use avoidance and provocative testing i.e. the elimination diet. You eliminate all gluten sources in your diet for 30 days and then try adding it back to see if symptoms re-occur.
Food intolerances differ from full-blown food allergies so antibodies may not show up in blood tests.
Keep a log of all the food you eat and the symptoms you might experience for a few weeks. After eliminating gluten, the suspected food is eaten to see if symptoms re-develop. In some cases, people are able to gradually build up their tolerance to foods that previously bothered them.
Final Thought
Bottom line the wheat plant has changed due to the demand on production and we're also consuming far more gluten than our bodies were ever meant to. It's about knowing your body, what works for it and what doesn't.
You may have been struggling with low energy or wanting to lose your excess weight, you might have  tried a number of diets and strategies that haven't worked for you.
I know how frustrating this can be, and how confusing it is to try to make sense of all the conflicting nutritional information out there.
---

To get your FREE copy of the e-book:
Click HERE

5 Foods 
that will boost Your Energy Levels and Help You Lose Weight Naturally.