Anxiety is real for many of us, and for most of us it isn't always a full-blown panic attack. If you've experienced anxiety, you know how much it can impact your day-to-day life.
There are ample reasons for you to feel anxious, even on a daily basis – the crime rate, financial issues, increasing rates of diseases, even just keeping up with all of the things in our food and environment that might harm you or your loved ones … combine that with caffeine, over-stressed work lives … it's no wonder you're anxious.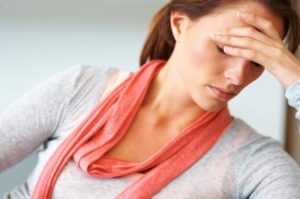 The American Psychological Association (APA) defines anxiety as "an emotion characterised by feelings of tension, worried thoughts, and physical changes such as increased blood pressure."
There is often the presence of fear about the future and excessive worry.
What's Wrong with Worrying?
There are many types of anxiety – it can be fleeting and normal to feel anxious before your wedding, or the birth of your child, or in the midst of a major life change, through to full blown generalised anxiety disorders (GAD) with panic attacks and debilitating phobias.
Anxiety is a normal response to a stressor; it also causes the release of your stress hormones – adrenaline and cortisol. These are designed to give you a quick boost of energy when you need to flee a dangerous situation. However, chronic anxiety (is not meant to be a part of your daily experience) means more stress, that can then lead to: – cortisol dysregulation, hormonal imbalances, high blood pressure, more belly fat, sugar cravings, and high insulin levels. It may also show up in your life as insomnia, depression, fatigue, and work or relationship issues.
From the Eastern perspective, any time you move away from a feeling of peace, you are experiencing a form of anxiety.
The problem is your body doesn't know the difference between an overwhelming day or being chased by a tiger. For this reason, your cortisol levels can remain at a "high alert" status, even when you are just feeling a little anxious and not actually in any danger.
Gut – Brain Axis
One of the most important new understandings is the emerging data on the health of your gut (microbiome, dysbiosis, increased intestinal permeability, and inflammation) and the link to your mental health, anxiety and any depressive-like behaviours. Anxiety can even start in your body, as a result of food intolerances that create high cortisol levels, inflammation and effect the gut/brain connection. It may also be from toxic exposure like glyphosate, or excessive use of antibiotics.
In the growing field of nutritional psychiatry Professor Jacka's, observational literature confirms that the quality of an individuals' diet is related to their risk for common mental disorders.

In one study, a lower intake in choline was associated with anxiety (choline is found in beef liver, salmon, chickpeas and eggs). In another, supplementing with omega 3s showed a 20% reduced level of anxiety.
Hormones & Anxiety
Woman have 31% higher chance of developing anxiety, due to strong hormonal drivers. Anxiety may Increase before your period, as oestrogen and progesterone levels decline.
Fluctuations in oestrogen levels during perimenopause may also be associated with mood symptoms.
Everything you do in a day affects your brain and risk of anxiety:
what you eat
whether you move or not
how you sleep
the health of your gut microbiome
your thoughts
How does anxiety show up for you?
Do any of these occur for you more days than NOT each week?
Do you often feel uneasy or on edge?
Is it difficult to stop checking emails or social media, because you feel like you're missing out on something?
Do you often feel like you're rushing?
Do you find yourself lying awake at night thinking about your "to-do" list?
Do you find it difficult to control your worries?
Do you have any of these other feelings: restlessness, fidgety, irritability, muscle tension, difficulty concentrating, and/or sleep disturbance?
If you responded "yes" to any of these questions, then you may have suffered from anxiety.
Thankfully, there are many different tools in Naturopathy that you can adopt to help with your anxiety – lifestyle practises, herbal medicines and essential oils.
1. Lifestyle practises – Get the basics right
Avoid Blood Sugar Dips – balance blood sugar by eating small protein/fat snacks throughout the day to keep your blood sugar stabilised.
Avoid Coffee– coffee causes adrenaline and epinephrine levels go up, and the caffeine crash is when your adrenaline and epinephrine levels start to go down while your cortisol levels stay up, causing anxiety symptoms to increase.
Take a Deep Belly Breath– Stress and anxiety cause shallow breathing, triggering your sympathetic nervous system (fight or flight response). Deep breathing stimulates your vagus nerve and supports your parasympathetic nervous system.
Try Exercise and Yoga – a Germany study, a group of 24 women with anxiety were randomised to two 90-minute yoga classes/week over 3 months. Significant reductions in both anxiety symptoms and salivary cortisol levels were found in the yoga group.

In another randomised trial from UCLA, 28 women with mild depression were treated with yoga twice/week compared to a control group who did not do yoga. The yoga group had significant improvements in mood and anxiety after only 2.5 weeks in class.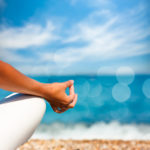 Exercise helps to shake loose tension that would otherwise not leave without some physical movement. According to studies, regular exercise works as well as medication for many people to reduce symptoms of anxiety and depression, and these effects can be long lasting.
GET OUTDOORS & INTO NATURE!!
2. Nature's helpers
Herbal Medicine
There are many herbs that help you cope with stress, worry or any other anxiety related conditions. Adaptogens and nervines, are 2 classes of herbs that are used most frequently, for the nervous system.
Each person has different needs and requirements and a relaxing herbal formula may contain any of the following herbs:- Scutellaria, Ashwaganda, Liquorice, Oats, Passiflora, Gotu kola, Vervain, Chamomile, Ginger.
Nervines are a class of herbs that have a very beneficial effect upon your nervous system. There are 3 categories: nervine relaxants, nervine stimulants, and nervine tonics.

Skullcap (Scutellaria lateriflora) skullcap is best known as a safe, reliable, mild nervine that excels in relieving anxiety, neuralgia, and insomnia. It treats high blood pressure, premenstrual syndrome, tension headache, and muscle spasm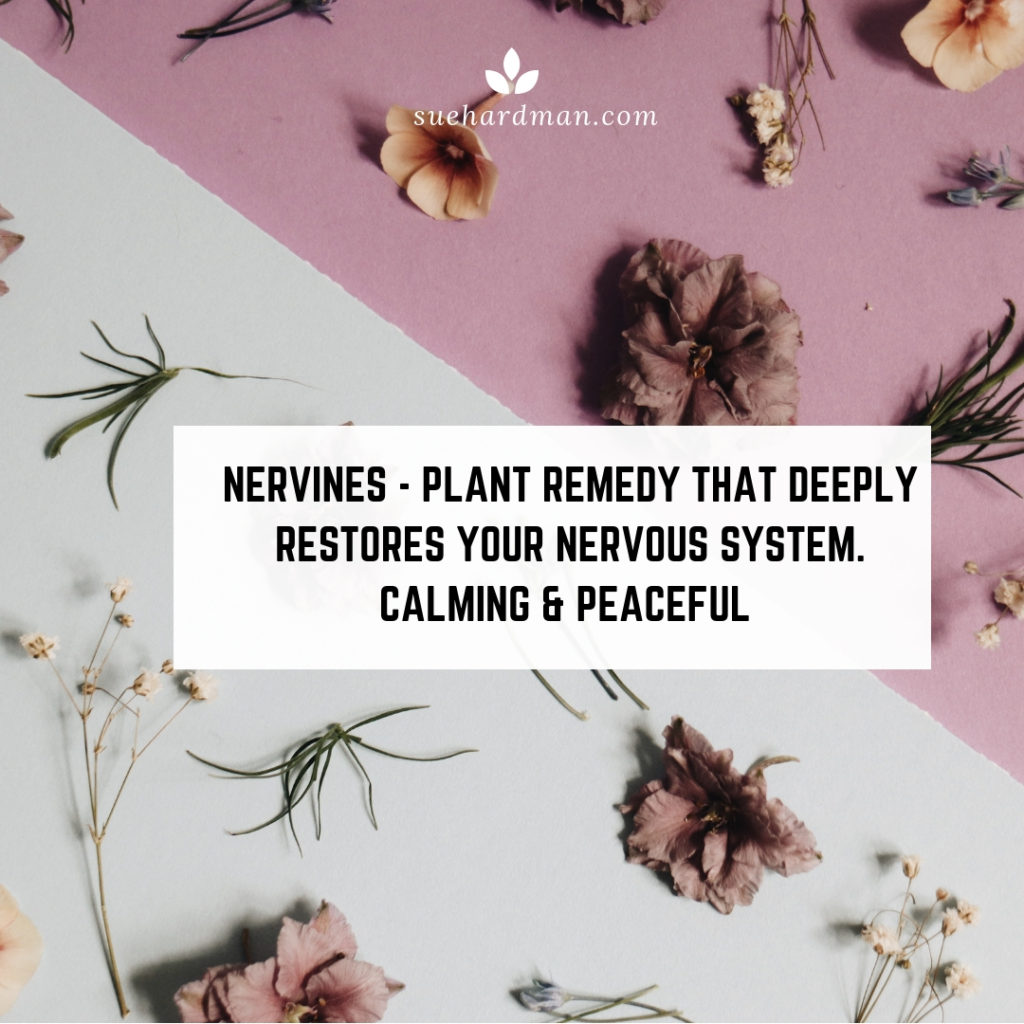 Scullcap has a long history of use in the herbal systems of North America, and in Europe. It serves as a nerve tonic and tissue rejuvenator and is protective for nerve tissue. In addition, it seems to have a protective effect on the liver.
Historically, skullcap's effectiveness has been enhanced when combined with other herbs such as – valerian, chamomile, passionflower, and vervain, so it shows up in many combination formulas for stress, sleep and anxiety. I have repeatedly seen that Skullcap is profoundly relaxing and is especially helpful for anxiety associated with a restless mind.
Adaptogens are another group of herbs, that are also powerful supportive agents that help your body "adapt" to stress by activating your in-built defence mechanisms and boosting immunity.
Unlike synthetic chemicals that target a particular tissue or system, adaptogens have a broad-spectrum effect, so they are excellent tonics. They help you adapt. More on adaptogens like Ashwagandha (withania somnifera)
3. Supplements
The following supplements may provide extra support during stressful times.
Magnesium is considered the most powerful relaxation mineral available. It is critical for various functions in the body and easily depleted by stress.
B-Vitamins are also easily depleted during stressful periods.
L-Theanine an amino acid known to reduce anxiety and induce calm.
4. The science of smell
It's a well-known fact that smells can immediately take you to another time and place. I'm sure you've experienced it. Think of the smell of freshly baked bread or newly mown grass.
Of all your five senses, your sense of smell is the fastest way to reach your brain. The nerve fibres from your nose or when you smell – run straight to the limbic area of your brain.
Your limbic system has direct links to your memories, learned responses, emotions, and feelings.
Some essential oils, like peppermint, can be absorbed through your nasal cavity and through to your bronchial tract and lungs.
These "fast track" delivery systems help explain how your body – and your brain – can respond so quickly to a calming or invigorating essential oil scent!
Essential oils and anxiety
Whenever you inhale oils, tiny nerves send a signal to your brain which stimulates a feel-good response. The chemical constituents distilled from the essence of the plants have an actual physical effect.
Bergamot – has research to back up the fact that it's has anti-anxiety properties.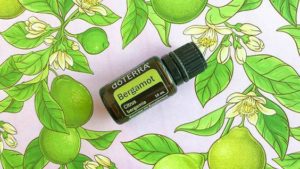 In 2011, a study was done on a group of primary school teachers in Taiwan. They were asked to perform a weekly, ten minute steam inhalation using bergamot essential oil. Researchers found that all of the participants experienced a reduction in their levels of anxiety.
A recent study showed that participants who were massaged with a blend of lavender and bergamot essential oils experienced a significant decrease in heart rate and a lowering of blood pressure. They also reported feeling more calm and relaxed than the control group.
Lavender– is a natural anti-depressant and sedative making it one of the most useful oils for anxiety. Lavender has traditionally been used to help promote restful sleep.
This article in the Natural Medicine Journal explains why lavender has historically been so widely used to treat anxiety and depression. Research suggests that topical applications may actually be one of the most effective methods for people with anxiety disorders as the chemical components of lavender have been shown to enter the blood stream within 5 minutes of massaging the oil on the skin.
The calming and relaxing effects of lavender essential oil have a one-two punch when applied topically because of the direct aromatic benefit on the brain when the volatile organic compounds are inhaled and pass through the skin!
Here are some useful essential oil combinations.
Diffusion Blend for Anxiety Relief – the easiest and arguably the most effective approach to use essential oils for anxiety is to put a few drops of any of these oils in your diffuser before you go to bed.
Topical Anti-Anxiety Applications – another effective strategy is to simply apply these key oils over certain parts of the body – particularly the trigger points – like the bottoms of the feet, on the wrists, behind the knees, behind the ears on the mastoid bone or on the back of the neck.
Anti-anxiety blend– This is a great blend for your home diffuser, but if you're on the go you can also mix it with carrier oil and apply it to the back of your neck to provide instant relief from anxiety – 2 drops frankincense, 3 drops lavender, 2 drops bergamot
Uplifting pick me up– 1 drop orange, 3 drops grapefruit, 1 drop peppermint
if you aren't interested in making your own blend, a great choice is to choose one of the many pre-made essential oil blends for anxiety from doTERRA Balance that creates a sense of calm and well-being. And contains grounding wood oils with Frankincense and Blue Tansy. Blue Tansy's scent helps uplift mood, while Frankincense promotes feelings of peace and relaxation.
Cheer is another helpful product for anxious feelings. This blend was designed to counteract negative emotions while promoting feelings of optimism.
I also like doTERRA's Peace Blend or their Serenity Blend.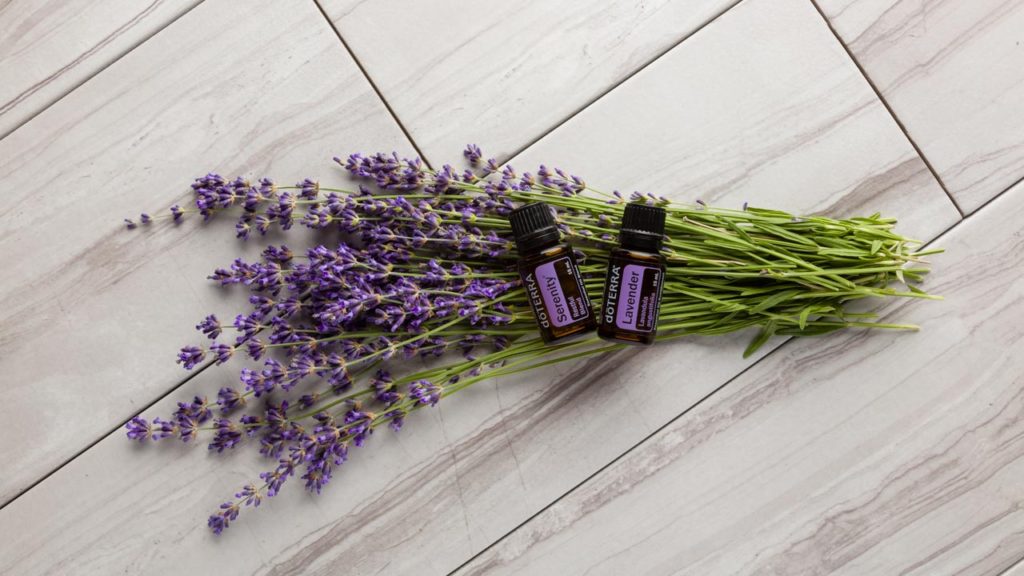 The Peace essential oil blend for anxiousness includes: Vetiver, Lavender, Ylang Ylang, Frankincense, Clary Sage, Marjoram, Labdanum, Spearmint
Serenity blend includes: Lavender, Cedarwood, Ho Wood Leaf, Ylang Ylang, Marjoram, Roman Chamomile, Vetiver, Vanilla, Hawaiian Sandalwood
5. Bach Flower Remedies
Edward Bach, a medical doctor and homeopath, created these remedies in the early 1900s. Homeopathy is the belief that the body can cure itself. It uses small amounts of natural substances like plants and minerals to treat the body or mind. The idea behind Bach flower remedies is similar to homeopathy working on the emotions.
Bach believed that healing negative emotions helps the body heal itself.

Rescue Remedy – helps to provide better emotional balance and fast, convenient relief from everyday stress. It contains five flower essences: Rock Rose to alleviate terror and panic, Impatiens to mollify irritation and impatience, Clematis to combat inattentiveness, Star of Bethlehem to ease shock, and Cherry Plum to calm irrational thoughts. it
If things are quite bad, or you just know that you need further help, then there may be a great deal of benefit to you to go to find a good herbalist or holistic practitioner to guide you.
To find out more about how you can manage your stress, anxiety or energy levels please contact [email protected].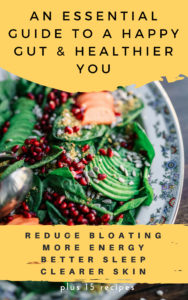 If you haven't signed up for my regular updates and newsletter, you can grab a copy my free gifts here –

5 Steps to Great Gut Health & Ditch The Bloat